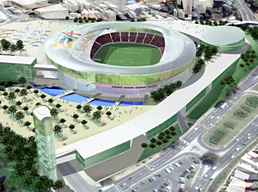 Modern Football - The relevance of the Stadium
Beyond the Great Event
Outside the period of the Great Event the main goal of any sports Club is to capture more public and increase the number of additional events taking place at its Stadium, converting this infrastructure into a true revenue generator asset.

In North America this has been achieved with great success, and in Europe many Clubs are already applying the same management models.

To refer only one of the many possible examples, in the United States over one million people each year visits the Philadelphia Flyers sports complex, which offers various sports and entertainment possibilities to its audience.

Adequate sports infrastructures management models enable to attract a all new audience that today doesn't go to Stadiums. This is possible by improving this infrastructures, increasing comfort and introducing additional support facilities, as for example new VIP areas, special seats, bars, restaurants, shops, stands and kiosks, amongst other possibilities.