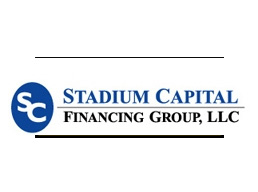 Partners
Stadium Capital Financing Group - Morgan Stanley Principal Investments
SCFG - Stadium Capital Financing Group, is a majority-owned entity of Morgan Stanley Principal Investments and they have innovative financial methods dedicated to sporting and entertainment facilities. By offering this revolutionary and patented methodology they have transformed the market for sporting facilities, giving a fantastic financial solution that offers good stability in the long run for everyone, including the team and the spectator.

The program developed and owned by Stadium Capital Financing Group / MSPI fulfils the need of the market in finding financial solutions without the necessity of creating debt.

The Strategic Partnership with the Lusoarenas will solve the most critical blockage for the development of new stadiums - adequate financing.

Although Stadium Capital Financing Group initially centred its activity on projects in North America, today Stadium Capital Financing Group is already in conversations with some European soccer clubs. Stadium Capital Financing Group's new partnership with Lusoarenas is a key element of their international expansion program.