NEWS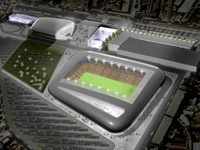 Lusoarenas, Desenvolvimento de Empreendimentos e Concessões S.A.
,is a development company for a new generation of projects in Brazil and Portugal: Stadiums, Multi purpose arenas, Convention and exhibition centres.
Our projects are developed under the best international practices in terms of conception. The Business Plans considers the development of an asset with a high profitability integrated and managed into a network of projects.
>>
Read more
Comcast-Spectacor offers 2008 predictions for sports industry
04/01/2008
Executives at Comcast-Spectacor, the Philadelphia-based sports and entertainment firm, forecast technology playing an ever-increasing role in presenting, selling and communicating events in 2008. Owners and operators of teams and facilities will develop continuous efforts to sync all aspects of purchasing the ticket to an event, experiencing the event live and interacting with this customer long after the event.
>>
Read more
---
Recife in the front line in preparing for the World Cup 2014
19/12/2007
Lusoarenas and the Clube Náutico Capibaribe signed a protocol for the development of a football Stadium in the Recife-Olinda region.
The projects includes the planning, financing, design, construction, operation and facility management for a 30-year period.
>>
Read more
---
News Archivement