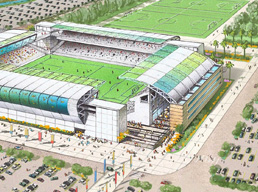 Related Points:
Modern Football - The relevance of the Stadium
What do the best Stadiums in the world offer?
Easy purchase of entry tickets - The purchase process is made easy via electronic means such as the internet and also by using credit cards and mobile phones.


Access and Security - Entries and exits should be easy to identify and there should be special means for spectators who are handicapped. There should also be special consideration for evacuation during emergencies.


Foods and Drinks - The obtaining of food and drink should be easy and without problem, also the variety and quality of the products to be consumed should be suitable to the different types of spectators using the Stadium.


Audiovisual Technology - There exists a large range of technological resources that can be used by the spectators that will make it possible for them not to miss a single moment of the game/show. It is now easy to obtain plasma terminals and therefore it is intended that individual terminals be in the VIP areas, thereby also giving each person access to shopping while at the game.


Comfort and Security for families - Conditions of comfort and security within the stadium stimulate total families to go to the Stadium. By making it possible for men, women and children to go to the stadium together there is an increase in the potential sales of higher priced seats such as club seats. There will also be an increase in the sale of permitted products.


Security of the supporters - A different system of security and monitoring will be incorporated that will assure the behaviour of supporters is changed in a positive way. This will also allow for the identification of actual trouble makers and will also allow for the identification of potential trouble makers.